Vanha Postitalo
Cozy and affordable accommodation in Varkaus for companies
Aparthotel Vanha Postitalo is centrally located in Varkaus. Walking distance is e.g. Stora Enso factories, Navita, supermarket and restaurants are right next door.
At Vanhalla Postitalo, you can stay from one night to months depending on your needs, even every week from Monday to Thursday. You can get in even late at night with the help of automatic locks.
The goal of Hotel Vanha Postitalo is to offer homely and comfortable accommodation and furnished apartments Varkaus in the middle of Varkaus at an affordable average price.
Our customer service is at your service 24/7.
If you need a room for this evening, you can book it directly on our website and the system will send you the necessary codes and instructions for entry. You can book a room HERE.
If you are visiting Varkaus and looking for rentals in Varkaus or you have longer-term accommodation a larger group or need airbnb Varkaus you can put a reservation/quote request in the form below. We will respond as quickly as possible, usually within the same day.
Why do companies stay at the Old Post House in Varkaus?

Good service
Located in a central location with good transport connections
Free parking space
Easy to get to, automatic locks and codes work conveniently and you don't have to worry about lost keys
Clean renovated rooms
Bed linen is always included in the price
Each room has its own TV
Cleaning is always included in the price.
Wireless internet is always included in the price
Easy booking online or through company sales
Residents have the option of cooking in each of their own rooms or in the shared kitchen
Every room has at least a fridge, microwave, coffee and kettle
Residents have the opportunity to do laundry either in their own room (in family rooms and family apartments) or in common areas
A nice yard area with a grill for residents to use
Highly rated service. Work goes smoothly in cooperation
In order for the residents to enjoy themselves in the best possible way, Hotelli Vanhalla Postitalo collaborates strongly with various professionals. Comforta's high-quality bedding and towels are used at the Old Post Office. The local Siivouspalvelu Sitruuna is responsible for cleaning, and the local Varkaus Kiinteistöpalvelu for property maintenance and yard work.
Together, we take good care of your employees.
Hotel Vanha Postitalo is more than a hotel. The apartments and rooms for rent are more like homes, designed with the residents' comfort in mind. Here, the residents can cook themselves and sleep in good beds, enjoying the good darkness of the night when every room also has blackout curtains. In addition, each room has its own TV, so residents can watch their favorite programs even while traveling. You can get apartments in Varkaus from Vanhalta Postitalo.
Muskari Sauna 2bedroom apartment for 5 people
3 bedroom Sauna apartment for 4 people
OUR HOTEL ROOMS AND APARTMENTS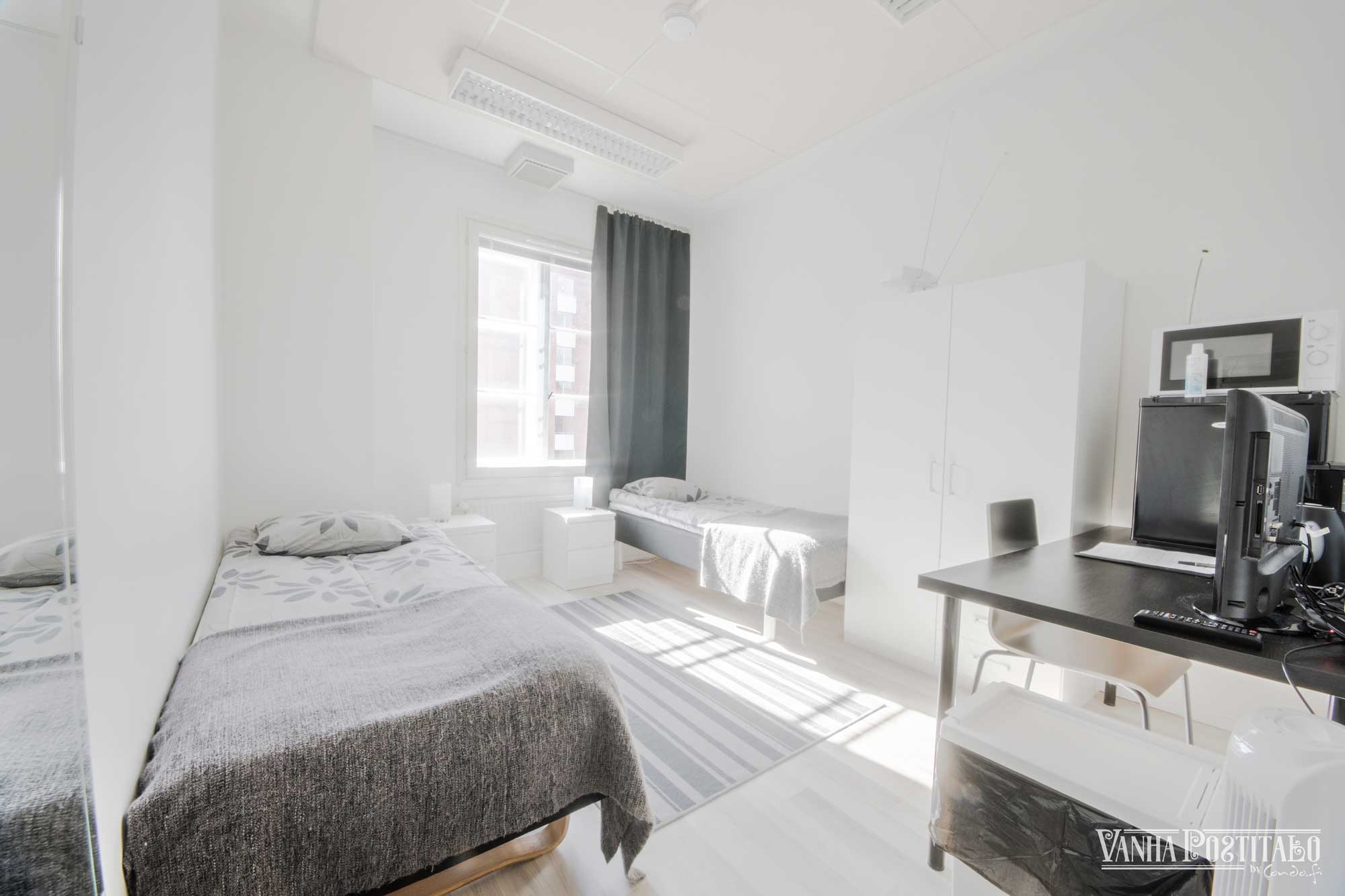 BASIC ROOM
Affordable accommodation in the center of Varkaus. Includes a shared kitchen. And a shower and toilet on the corridor side.
PREMIUM ROOM
Accommodation in a beautifully renovated room. The room has a 120cm double bed, private shower and toilet. A TV, mini-fridge, microwave and coffee maker are also included. There is also a shared kitchen available.
BUSINESS / FAMILY ROOM
Renovated comfortable room with private shower, toilet and kitchen for 1-2 or 1-4 people. The room has 2 80cm beds and the family room has a sofa bed for up to two people.
SUITE / FAMILY APARTMENT
Renovated two-room family apartment with private kitchen, shower and toilet. The apartment also has a private balcony and a 55″ TV and a washing machine. In this apartment, you can stay from one night to several months.
Our apartments are situated in a city centre of Varkaus near some of the biggest companies in Varkaus, such as Stora-Enso, Andritz, Honeywell and Navitas. In addition, you'll find a variety of supermarkets and restaurants just a short walk from your front door. With everything you need right at your fingertips, our apartments offer both convenience and comfort for your stay in Varkaus.
Book your stay in our furnished apartments today and experience all the comfort and convenience of a home away from home in Varkaus!
SALES
You can contact our business sales on weekdays from 9 a.m. to 4 p.m
CUSTOMER SERVICE
You can call / send an email every day 24/7