Vanha Postitalo
ACCOMMODATION VARKAUS
Vanha Postitalo has 15 Rooms and rental furnished apartments up to 30 people. All rooms and apartments are renovated and nicely furnished. These are like excellent  airbnb Varkaus furnished apartments designed by professionals. You can book rooms directly from our website or booking.com for short term rental. Best prices you will get from our website. Longer you stay the better the price you will get. 
All rooms have at least the following amenities:
Access to Washine Machine
Access to Washing machine
Room Types
Business room is  like a very good furnished apartment. There is a kitchen, shower & Toilet, TV, sofa or armchair and it is a very good choice also for longer accommodation.
Premium rooms are like hotel rooms with their own shower and toilet, tv, mini fridge, microwave. Premium room users there are also common kitchen and washing machine available for use.
Cheap accommodation in Varkaus
If you are looking for a cheap hostel Varkaus then Basic room is great choice. It is simple furnished, but nice with good beds, mini fridge, microwave etc. There are shared toilets & showers as well as a kitchen available. Basic rooms fit for a short or longer stay. Some of our customers are enjoying their stay in basic rooms for many months.
We also have one suite available. It has two rooms, its own kitchen, toilet & shower and own balcony.
Vanha Postitalo is the centre location in Varkaus and excellent choice for business or leisure traveller.
All rooms are non-smoking. No pets allowed.
If you are looking for a short term rental Varkaus then Vanha Postitalo is a great choice.
We warmly welcome you to enjoy your stay!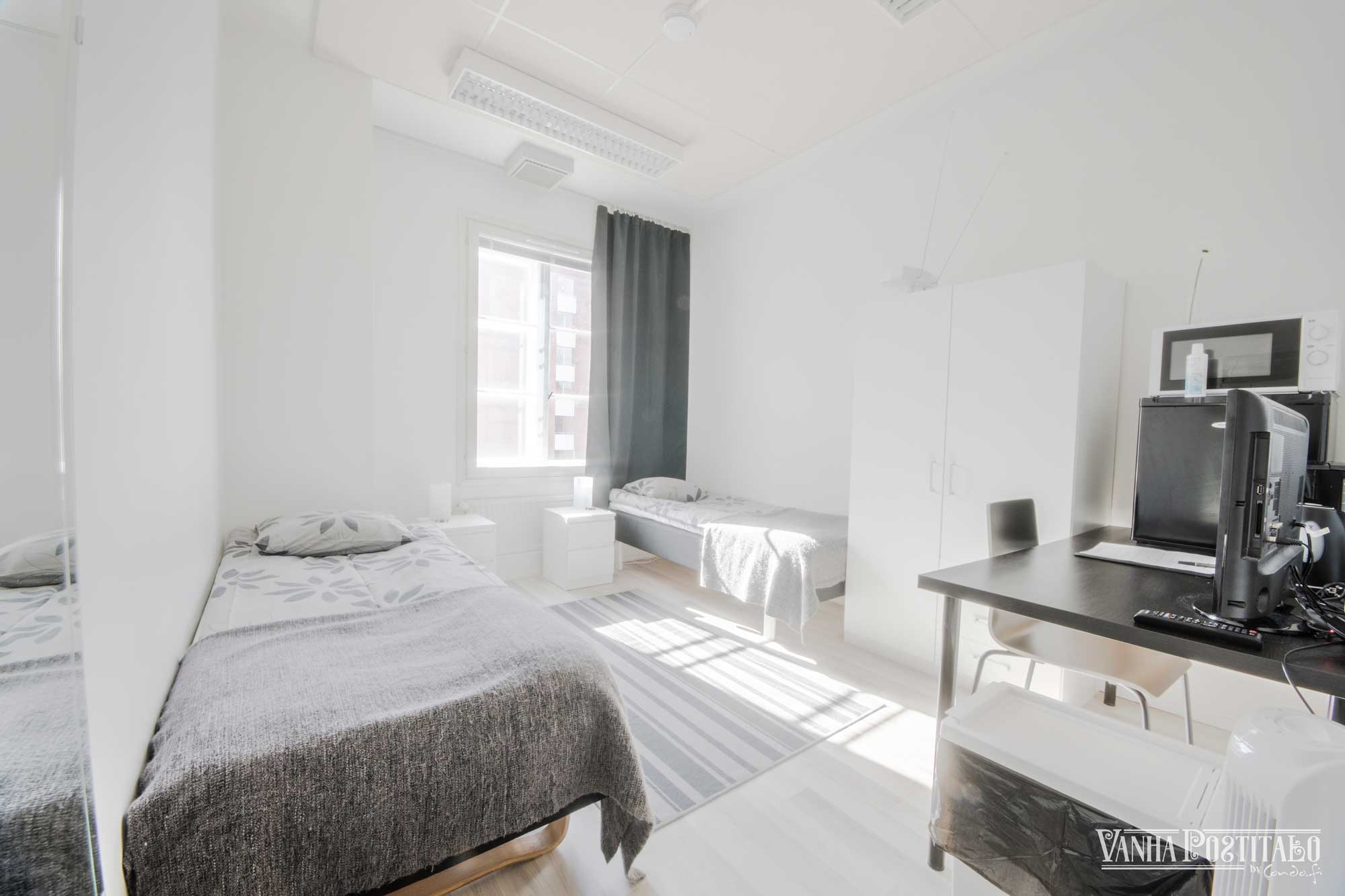 BASIC ROOM
Affordable accommodation in the center of Varkaus. Includes a shared kitchen. And a shower and toilet on the corridor side.
PREMIUM ROOM
Accommodation in a beautifully renovated room. The room has a 120cm double bed, private shower and toilet. A TV, mini-fridge, microwave and coffee maker are also included. There is also a shared kitchen available.
BUSINESS / FAMILY ROOM
Renovated comfortable room with private shower, toilet and kitchen for 1-2 or 1-4 people. The room has 2 80cm beds and the family room has a sofa bed for up to two people.
SUITE / FAMILY APARTMENT
Renovated two-room family apartment with private kitchen, shower and toilet. The apartment also has a private balcony and a 55″ TV and a washing machine. In this apartment, you can stay from one night to several months.
Muskari Sauna 2bedroom apartment for 5 people
3 bedroom Sauna apartment for 4 people